A Review Of The Blundstone 1308 Dress Boots
These boots are plenty grippy while impeccably maintaining the silhouette of a dress boot. Thanks to the more formal outsole, they don't explicitly look like hiking boots which might just be the best part about them.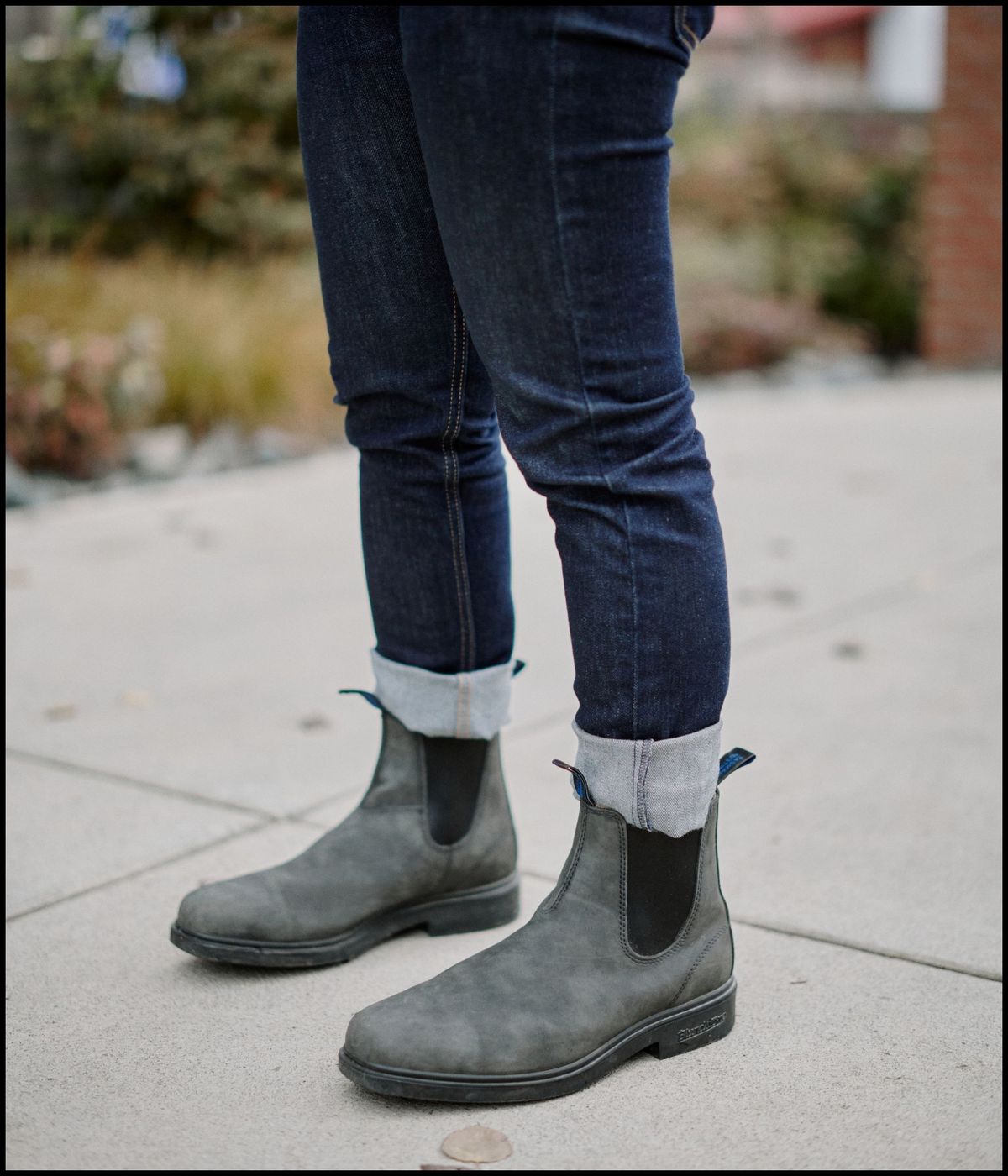 Decaf Journal is reader-supported. When you buy links through our site, we may earn an affiliate commission.
I can honestly say that for the longest time I had zero interest in Blundstone boots. Where I live in the Pacific Northwest, Blundstones are standard issue attire. Everybody, and I mean everybody seems to have a pair, which is precisely why I avoided them for years. I would openly poke fun at people who wore them (in a playful manner of course) as if they had no taste or personality. I subconsciously felt that I needed to be a bit more thoughtful in my choice of footwear. I mean, why on earth would I want to conform to what everyone else is doing?
Late last year I had a brief three month stint at an office job in downtown Vancouver, BC and it was my first face to face position in over three years. I wanted to look as professional as possible, so I bought some nice black leather dress shoes. However, I quickly realized that almost nobody else was wearing such formal shoes to the office and it felt like overkill. I hadn't broken them in yet, so I returned them and instead looked for an office appropriate boot given that winter was just around the corner. Blundstones weren't even on my radar until I saw the Dress 1308 Boots in the shoe store. I tried them on, and not only did I love the way they looked, I appreciated the sense of confidence they gave me. I felt capable of...well a variety of things that I'll touch on in a moment.
The Blundstone 1308 Dress Boots are ruggedly handsome Chelsea boots made from premium leather and a polyurethane midsole for improved comfort and cushioning. They also sport a thermo-urethane outsole which is highly resistant to mould. This is an absolute must have feature in Vancouver Island's persistently rainy climate. My pair comes in the tastefully pre-distressed Rustic Black color which helps them stay looking new for years. Any scuffs that have accumulated over time just add to the existing pattern and blend in nicely without appearing like damage.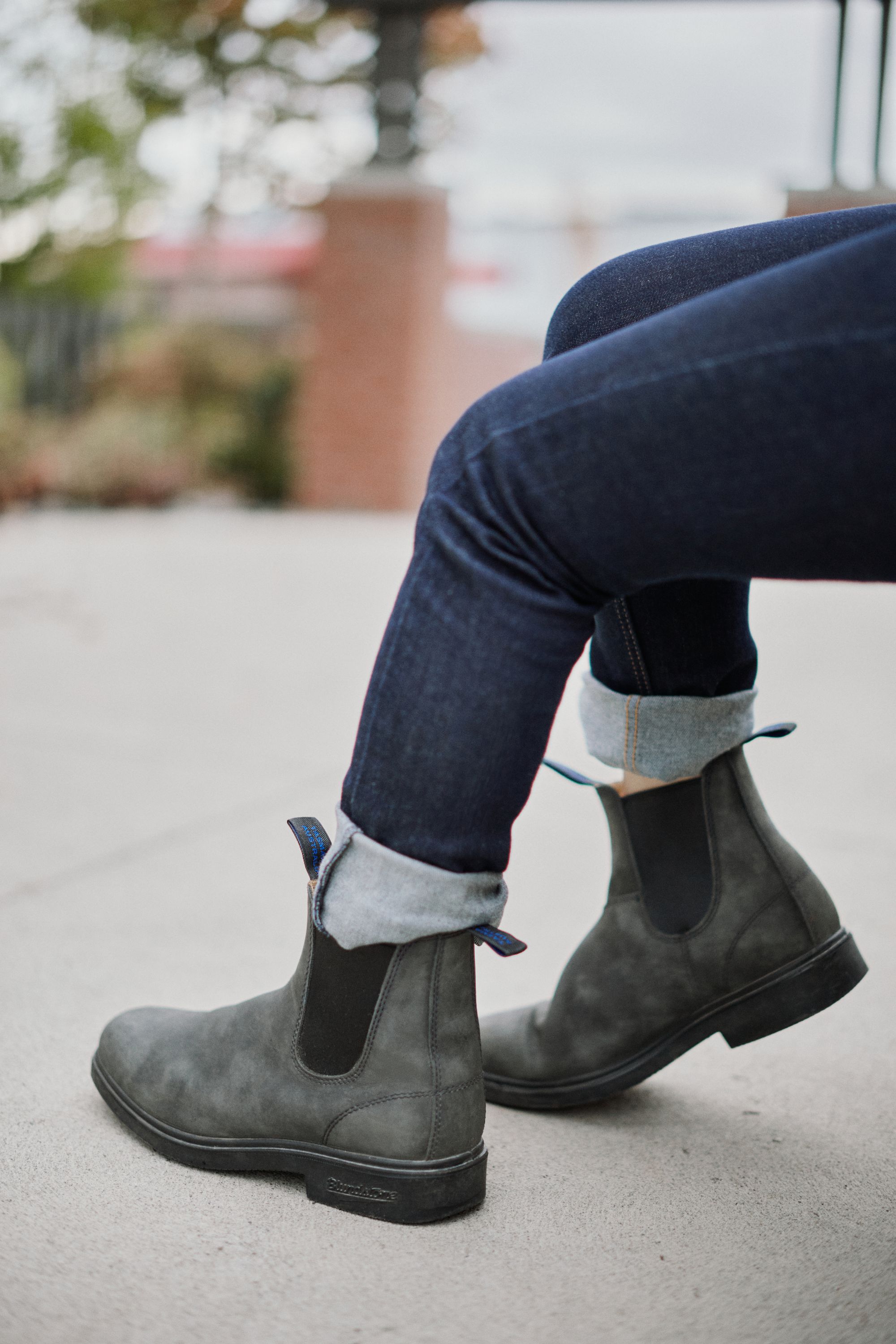 There are no laces to worry about, as the boots include straps on both the front and back making them effortless to put on. In the interior of the boots you'll find removable cozy sheepskin footbeds that keep your feet toasty warm, almost as if they're being hugged by a blanket. I've never experienced this with any other pair of shoes or boots, and now I'm not sure if I could live without it. I'm also happy to mention that the Blundstone 1308 Dress Boots have what I consider to be the perfectly shaped toe. Thankfully you won't find any square toes here, which has always been my biggest objection when it comes to dress footwear. It's the little things you know?
Speaking of style points, these boots are plenty grippy while impeccably maintaining the silhouette of a dress boot. Thanks to the more formal outsole, they don't explicitly look like hiking boots which might just be the best part about them. Feel free to call them handsome or beautiful, because the Blundstone 1308 Dress Boots are a unisex model that look great on anyone and everyone. Great looks aside, these boots are indeed weather proof just as advertised. I've tested them in the rain, snow, and frequently in the shallow ocean. Time and again, my feet have kept dry in every situation. They've also proven themselves to be extremely durable as they've taken a beating over the course of a year but somehow still look great. I haven't babied them either like I do my camera gear.
For all that the Blundstone 1308 Dress Boots get right, there are a few potential negatives worth mentioning. First, don't expect to be able to walk fast in these boots even after you break them in. It always takes me a few minutes longer to complete my daily walk in these boots than when I wear my everyday sneakers, so they're not the best choice if you're in a rush. They also still feel a bit on the stiff side which I have mixed feelings about. While this is great for overall support and avoiding rolled ankles, it's also not the most comfortable. Don't get me wrong, they do feel cozy and fit comfortably enough. They're just not New Balance sneaker type of comfy. Lastly, these boots are fairly expensive. While I don't like the price tag, I can't argue that they aren't good value for money in terms of what they offer. Consider it an investment and you'll feel better.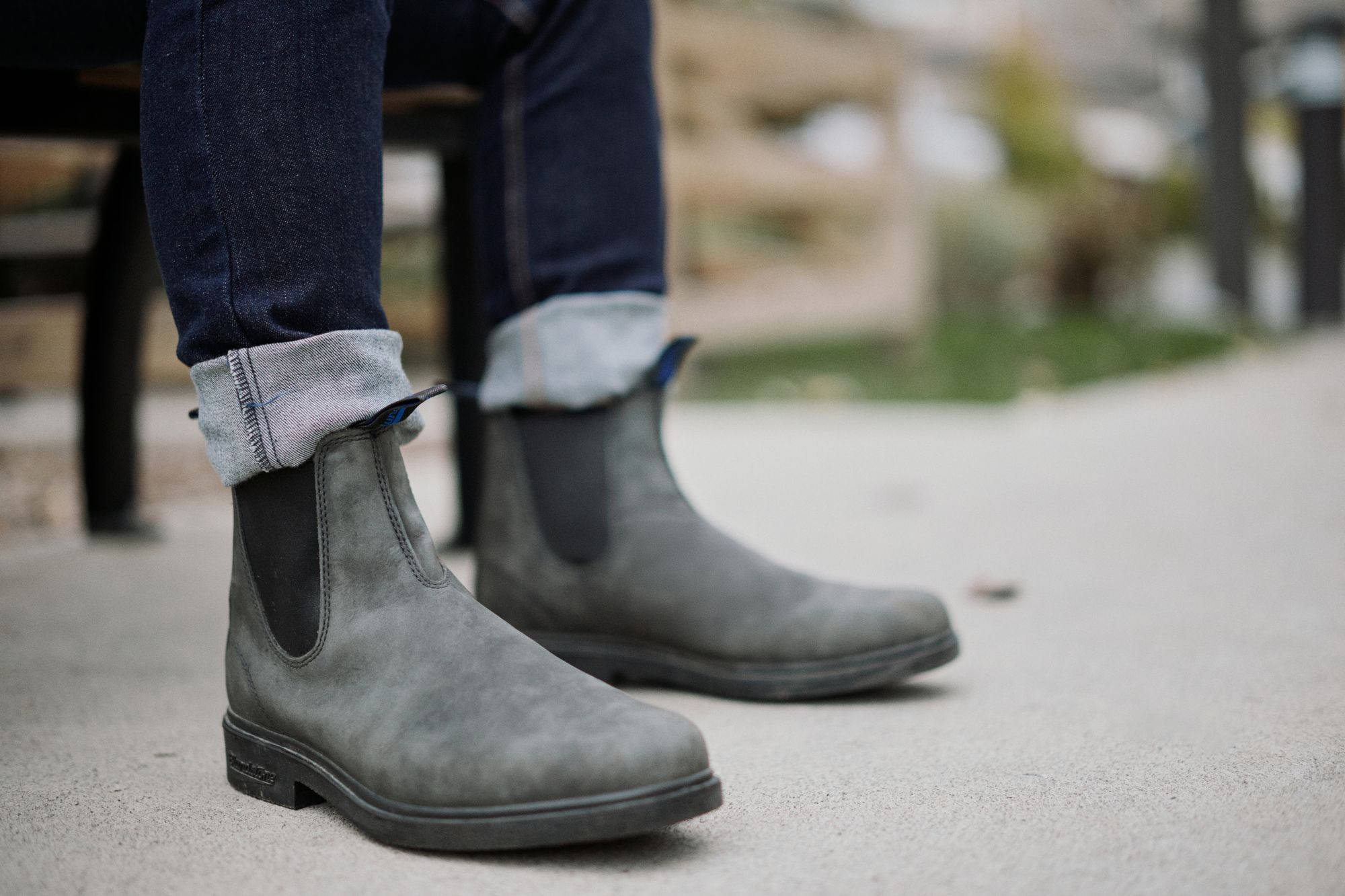 You'll quickly forget about what you paid for these boots once you starting receiving plenty of compliments on them just like I did. They don't overtly draw attention to themselves, but the Blundstone 1308 Dress Boots will be appreciated by many for their understated good looks. They're versatile in their utility as well. You can go hiking in these and attend office meetings on the same day without looking out of place. Pull your pant leg over the high top portion for business occasions, or keep the pants cuffed above the ankle if you're out and about in the wilderness.
I still maintain that I don't love the look of every Blundstone boot available, but the dress line of boots is something special for the fashion conscious buyer. Don't get me wrong, I still love my New Balance sneakers as my everyday walking shoe (I walk a lot). But these boots are for both work and play. They're also impressively well made, as the sole on my pair hasn't worn down at all. I can't stress enough that these are quality boots. Even if mine fell apart tomorrow, I would simply bite the bullet and buy another pair immediately. I confess that I've drank the Kool-Aid, I get it now. It's not that everyone I know is a homogenous group of sheeple, it's that these Blundstones are simply that good. I just didn't get the memo.