A Review Of The New Balance 580 Sneakers
The most compelling reason to own the New Balance 580 is for its utility. It's a shoe for off duty models and discriminating designers alike.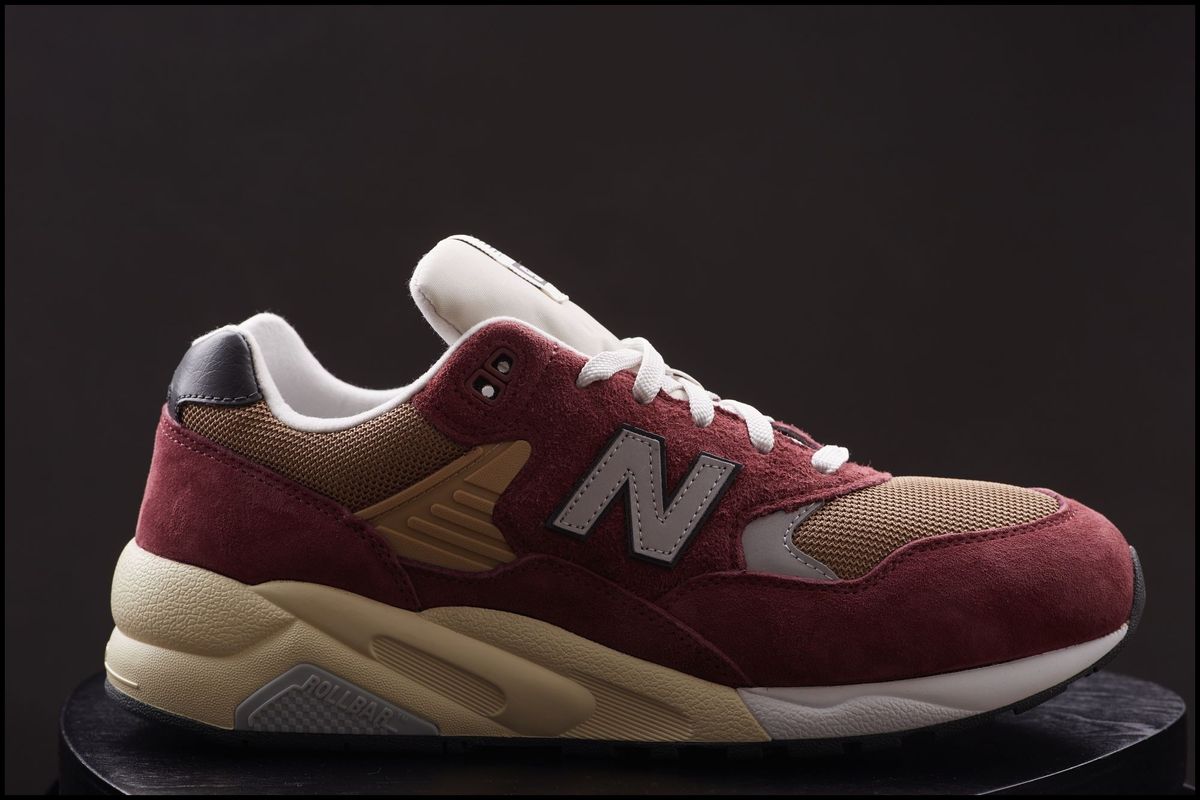 Decaf Journal is reader-supported. When you buy links through our site, we may earn an affiliate commission.
Some naysayers only know New Balance sneakers as an outdated dad shoe. I'm even pretty sure I was one of them growing up. You couldn't have convinced my friends or I that they were in any way a relevant choice over the Adidas Stan Smiths or Nike Dunks. They just didn't seem like a smart choice, nor a particularly attractive one. While it is true that the company does make some very pedestrian designs that cater to an older crowd (or younger ones who are looking to be ironically fashionable), the majority of their lifestyle footwear and Numeric skateboarding line are seriously on point.
My first pair of New Balance sneakers were the legendary 574 model that I had seen paired with a slim suit in GQ magazine. Previously it had made no sense to me that sneakers could be dressed up to be formal attire, but somehow it just looked right. Not to mention a bit rebellious which is always appealing. I loved my pair so much that I subsequently bought them in a few different colorways as I slowly but surely wore down the previous pair (I walk a lot!). I wore my 574s religiously for quite some time, blissfully unaware of what else was out there. However, it was only when I discovered the New Balance 580 a couple years back that I felt I had finally found the one pair of sneakers to rule them all.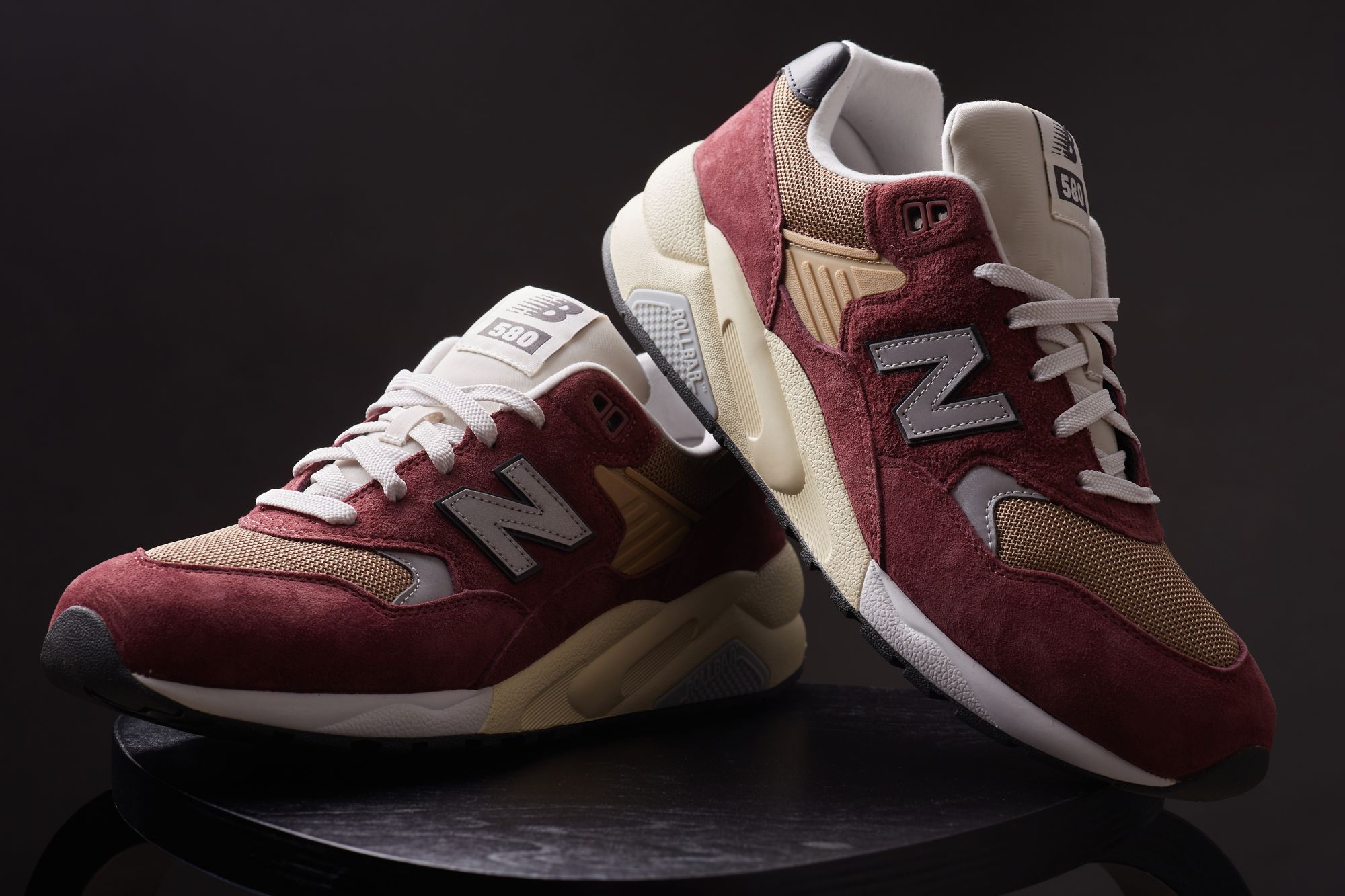 The New Balance 580 sneaker does share quite a few similarities to the 574 that I cherished so much, but in a more fashionable and refined silhouette. It comes across as a little bit smarter with a well rounded design that's especially versatile. You could say it's just the right blend of sporty and fashion. These shoes won't look out of place at the basketball court, the gym, the grocery store, or even the office. It's a shoe that you can live your life in and look smart doing it without much effort.
The New Balance 580 is built around a mesh upper with beautiful leather overlays. It features a slim rounded toe and a low collar around the ankle. The outsole has a satisfying grip that makes the shoe useful on less than ideal surfaces as well. The 580 includes New Balance's Roll Bar technology which prevents feet from rolling inward or outward and provides a significant amount of stability during foot movements. This could very well be why I've noticed that the 580 happens to be a remarkably good running shoe. I used to suffer endlessly from shin splints even when buying expensive running shoes in the past, but I've never had any soreness when running in these.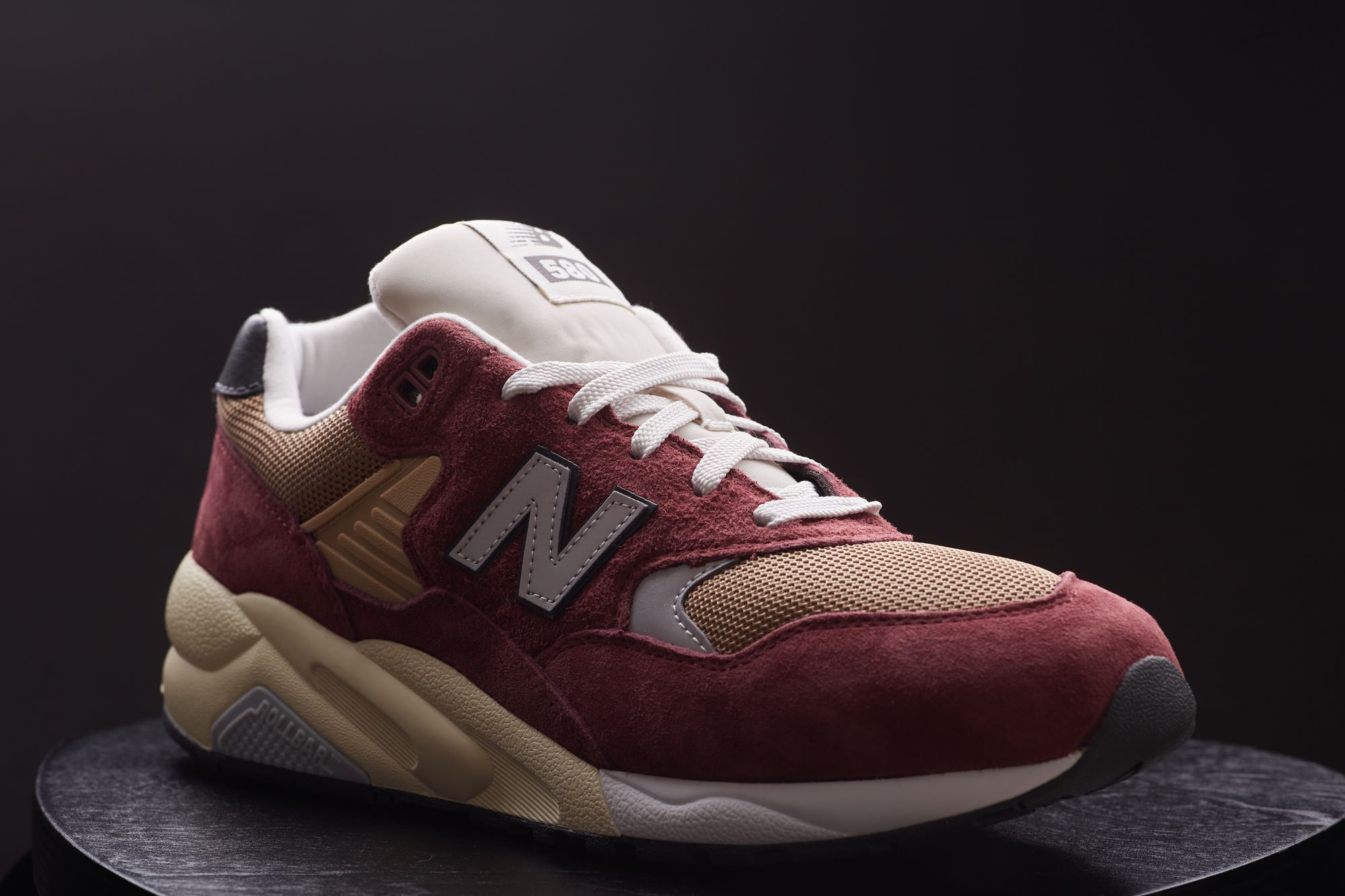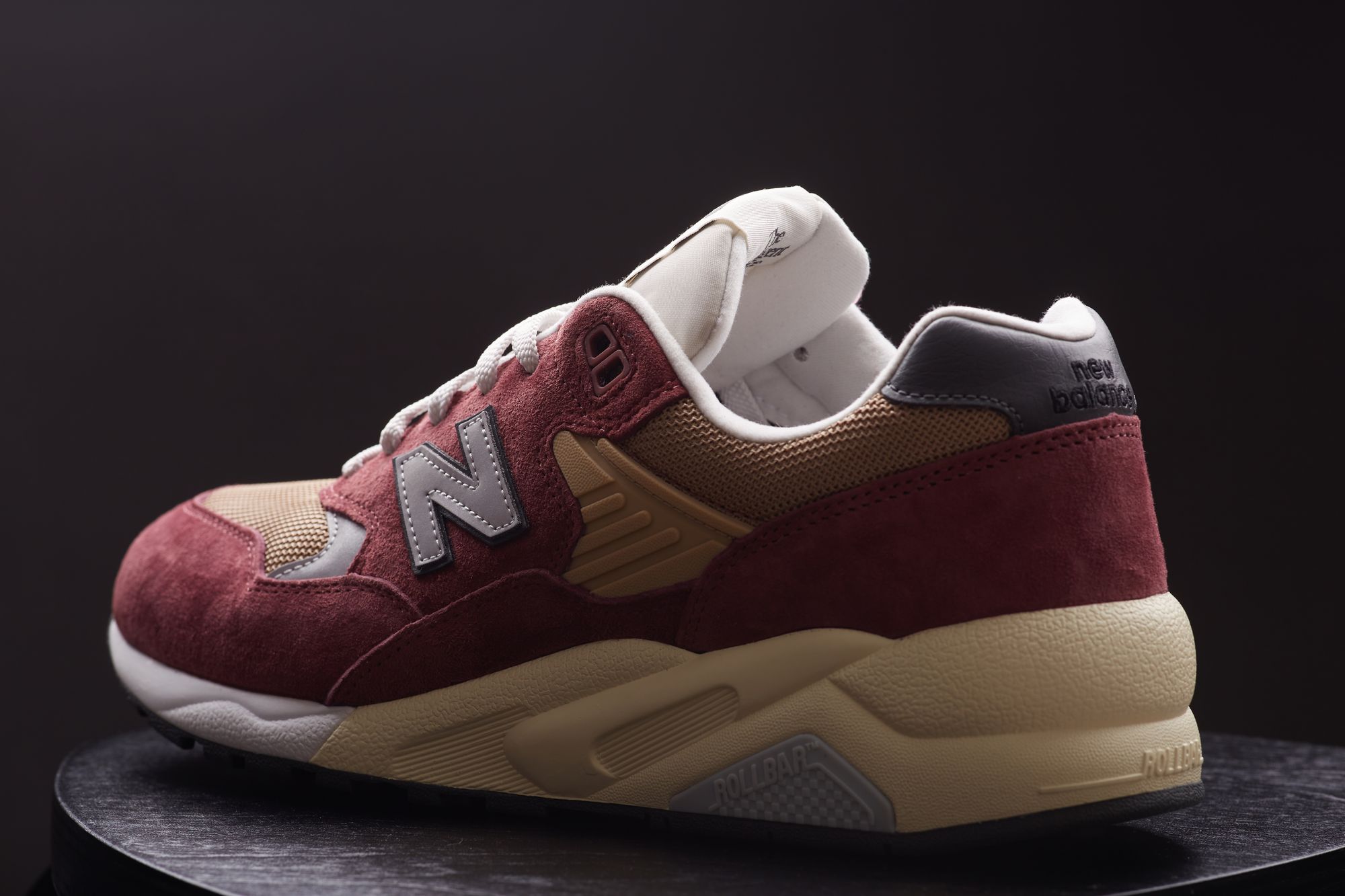 Alongside the 574, the New Balance 580 sneakers are hands down the most comfortable shoes I've ever worn. They certainly look great, but it feels even better to wear them. They're incredibly supportive, well cushioned, and fit like a glove. They won't fall apart on you either. These shoes are well made and without any compromises. I walk for a minimum of more than an hour everyday, and my old pair of New Balance 580s has lasted me over two years now. I've put them through all kinds of abusive weather and they've held up surprisingly well. I will say that the outsole is starting to wear down quite a bit, but they're still going strong.
So what's not to like about the New Balance 580? While there's not a whole lot to nitpick here, I wouldn't recommend them for wet environments or hiking due to the suede leather and mesh construction. It's not that it can't take the abuse, but that those materials get dirty easily and can be difficult to clean. This makes it a poor choice for rain, snow, or inclement weather in general. The fact is that these shoes excel in urban environments and not the wilderness, unless you opt for the newly released GORE-TEX model which has been built specifically for the great outdoors. Also, if you're a father like me, you may still hear the occasional New Balance outdated dad cliche comment even if the shoes are looking this handsome. Let's be honest though. The New Balance 580 is worth being heckled for once in a while.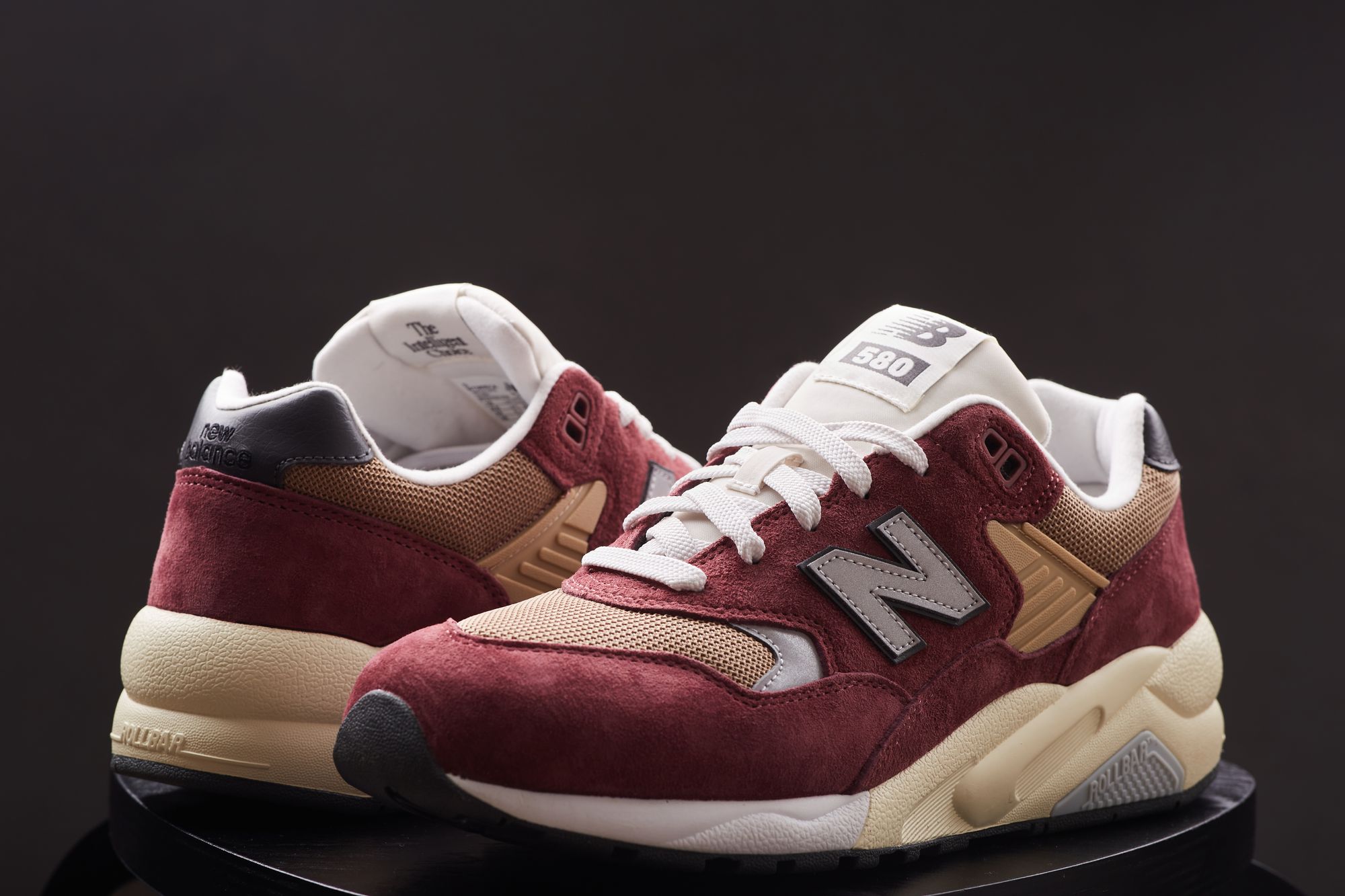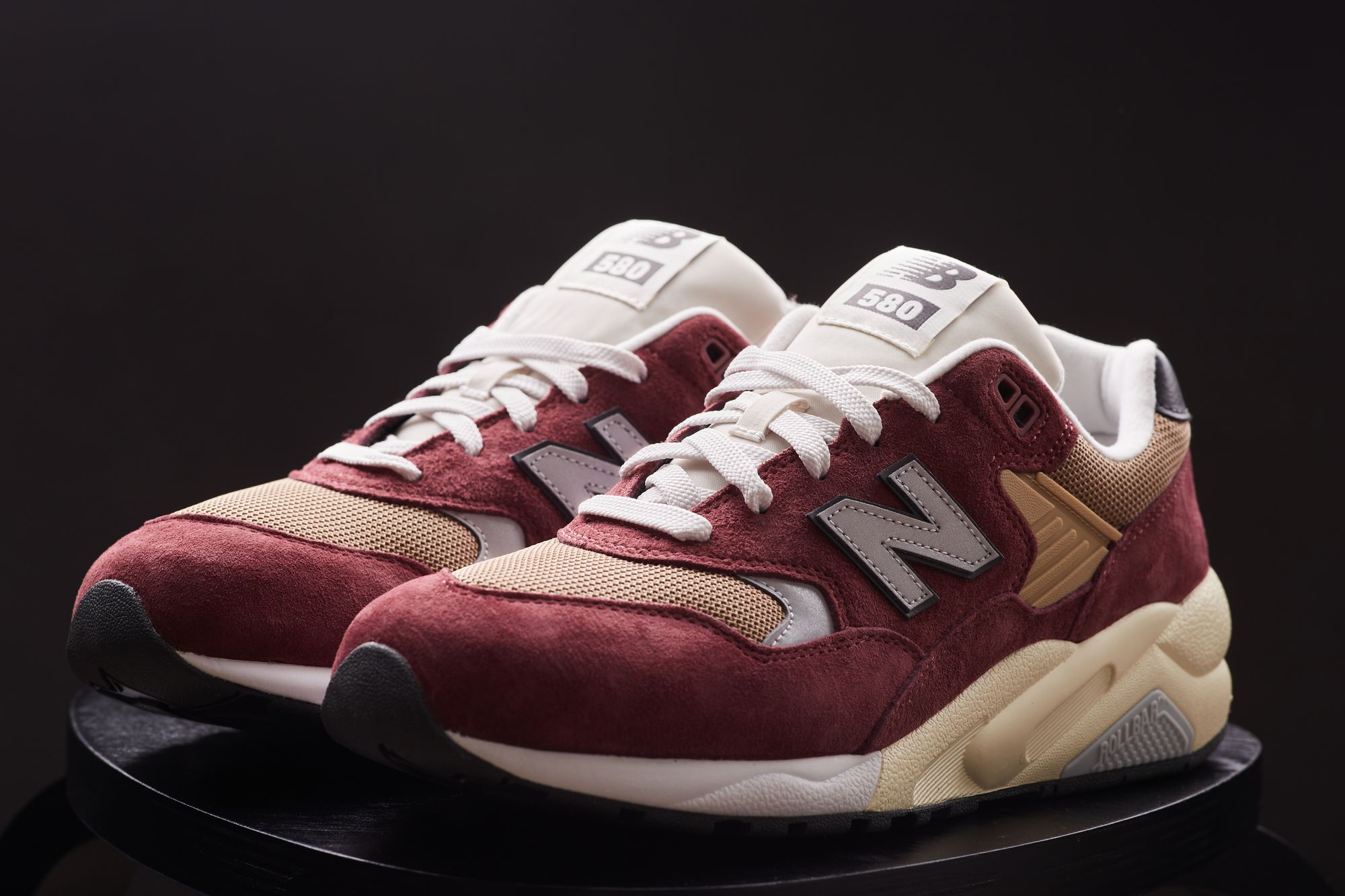 The most compelling reason to own the New Balance 580 is for its utility. It's a shoe for off duty models and discriminating designers alike. As I touched on earlier, it's one of the few sneakers that can be worn with a slim suit without a sense of irony. Just as long as your pants have a short break and you have the confidence to pull it off. Dress them up or down and they'll compliment you nicely. You can easily inject your own personality into the shoe since it comes in a (very) wide variety of different color ways and materials. You can find everything from understated elegance to loud and super saturated. With no shortage of collaborations and limited edition models available for the sneaker heads out there, the 580 has an overwhelming number of styles to choose from.
You may have heard a lot of hype around New Balance shoes and whether or not they're worth it. Well I'm here to let you know that the hype is real and justified. With superb comfort, time tested durability, and a thoughtful design that is appreciated by those who care about aesthetics, I can't recommend them enough. The New Balance 580 has cemented its place among the most classic sneakers ever made and it won't go out of style anytime soon. Please just do me one favor. Don't call it a dad shoe.